The Smash Balloon Social Feeds plugin allows you to pull in your department's Facebook, Instagram, YouTube, or Twitter feed using a third-party plugin.
Facebook – Custom Facebook Feed Pro Smash
Twitter – Custom Twitter Feeds Pro Developer
YouTube – Feeds for YouTube Pro Developer
Instagram – Instagram Feed Pro Developer
Activate the plugin
First, activate the plugin's license. On the bottom of the WordPress admin sidebar, go to your desired social feed and locate the "License" page and activate it using this key. (This page is password protected for only WFU users)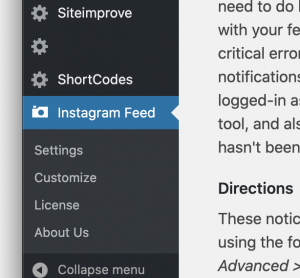 Connect your account
Connect your social media account by following the steps on the "Settings" page for the feed. You'll need to have the user name and password for your social account or already be logged in.
Customize and display your feed
Configure the settings for your social media feed with the options on the settings page, on the next "Customize" tab you can set the look and feel of your feed. For more detailed information view the plugin's support docs.
Once your social media is connected and styled, you are ready to add the corresponding block to your page.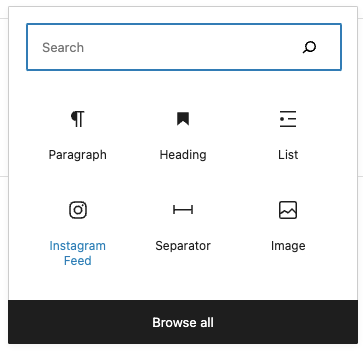 Warning: If you need to change your social media password this will break your page's feed, be sure to remember to reconnect your account at the same time. Also, third-party social media apps do go down sometimes and will affect your site. We cannot control this.