Any user that is an administrator on a website can add other users. If you do not have a current administrator to give you access to your website, then request access from CER using our online form.
Adding a New User
Add a new user at: WordPress sidebar > Users > Add New
If a user has ever been added to another WFU WordPress website in the past, you'll only need to add the user's email address or username in the top area of the page, choose the appropriate role from the dropdown and click Add Existing User.
If you know the user has never been added to a WFU WordPress website or you get an error that says that the user doesn't exist, then use the "Add New User" form lower on the page. Fill in the appropriate fields and click Add New User.
Let the new user know he or she can now log on by adding /wp-admin to the end of the site URL and entering the user's WIN credentials in the login box.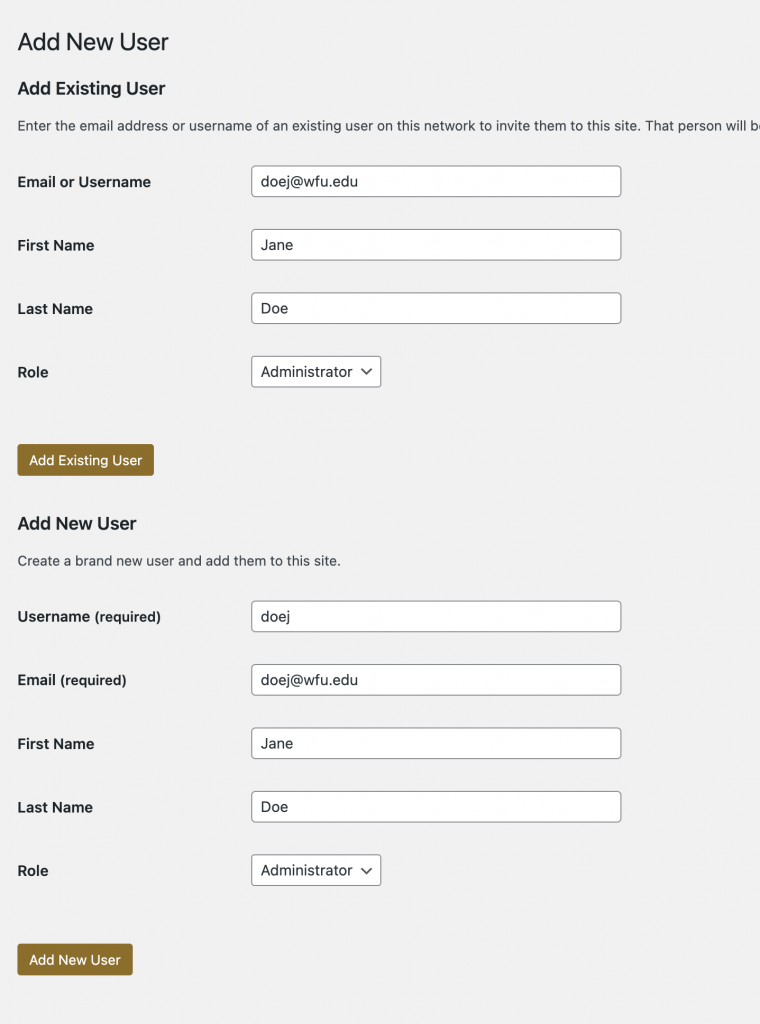 Removing a User
When a user leaves your department and no longer needs access to your WordPress site it's important to remove their access.
Remove a user at: WordPress sidebar > Users > All Users
Hover over the user's name and click "Remove."
User Roles
Administrator: An administrator has full and complete access of a website. They can publish and delete any of the content, manage Gravity Forms and add new users.
Editor: An editor can view, edit, publish and delete any post or page and upload files or images, but cannot add new users or edit Gravity Forms.
Author: An author can edit, publish and delete their pages and posts, as well as upload files and images.
Contributor: A contributor can edit their posts but cannot publish them. When a contributor creates a post, it will need to be submitted to an administrator for review. Once a contributor's post is approved by an administrator and published, however, it may no longer be edited by the contributor. A contributor does not have the ability to upload files or images.
Subscriber: A subscriber can only view the back end of the WordPress interface and leave comments if you require sign-in for commenting.
---
Author Display Name
The default author display name for blog posts is the WFU user name. To change this go to WordPress sidebar > Users > All Users and hover over the user you'd like to edit and choose "Edit".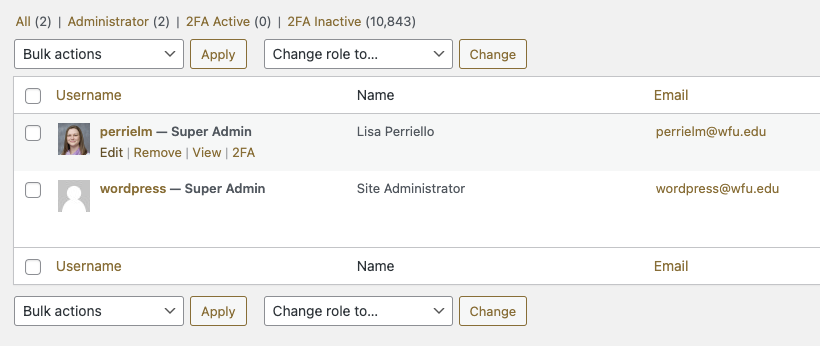 This will take you to the user's Profile page where you can make changes under "Display name publicly as" then click "Update Profile" at the bottom of the page.